The color of the soap dispenser
There are many varieties of
soap dispensers
. There are also many colors of soap dispensers. Different colors of soap dispenser can be selected according to different places.The standard color of stainless steel soap dispenser can be divided into stainless steel bright color and stainless steel wire drawing color. The bathroom in the five-star hotel chooses stainless steel bright color
Structural characteristics
In terms of function, the soap dispenser can be divided into two functions: with lock and without lock. It is more appropriate to choose a lockless soap dispenser in hotel rooms. Hotel toilets can be locked to avoid waste of soap.The size of the soap dispenser. The size of the soap dispenser determines the amount of soap that can be filled, this can be based on the actual needs of the hotel, choose a suitable size product.
Troubleshooting
If the soap dispenser has been idle for a period of time, some soap may be condensed. If the amount of soap is small, stir with warm water. This can restore the soap to liquid. If the above method is not feasible, stop condensing. Remove the liquid soap, add warm water, and use the soap dispenser repeatedly until the warm water drains from the soap dispenser, so that the entire soap dispenser can be cleaned.  
Please be aware that the dust and impurities in the soap will block the outlet. If you notice that the soap in the inner bottle has changed, please change the soap.If the soap is too thick, it may make the soap dispenser no liquid. In order to dilute the soap, add less water and agitate it before use.When using the product for the first time, first add clean water to drain the vacuum inside. When adding soap, the inner bottle and pump head may contain some clean water when the product is used for the first time. This is not a product quality problem but a product leaving the factory. Left over from the previous test.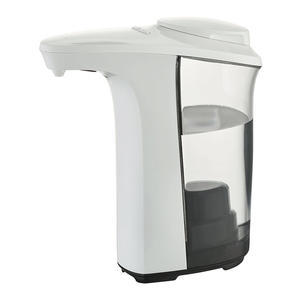 Ningbo Yiming Intelligent Technology Co., LTD., formerly known as Yuyao Yiming hardware and electrical factory, was founded in 2003. As a leading 
China Automatic Soap Sanitizer Dispensers Manufacturers
 and 
oem touchless automatic soap dispenser suppliers
. After more than 15 years of hard work and carefully built, the company covers a total area of 5000 square meters, At present, the company has more than 150 employees. There are 20 injection molding machines, 6 assembly lines, automatic production has been achieved, can independently complete the mold, plastic products development, manufacturing. Specializing in Technology development, Home Appliance R&d, Intelligent instrument manufacturing, Hardware products manufacturing, 
wholesale touchless automatic soap dispensers
, household appliances manufacturing, as well as production and sales. Warmly welcome customers at home and abroad to visit guidance, business negotiations!