The use of the
soap dispenser
seems simple, but there are some things that need to be paid attention to. The main precautions for the use of the soap dispenser are:
1. The soap inside the soap dispenser should not be too thick, otherwise the liquid may not come out, so pay attention to the viscosity of the soap inside the soap dispenser. If it is too thick, you can add a little water and stir it for a few times.
2. The soap inside the soap dispenser should be replaced regularly to avoid deterioration. The dust and impurities of the deteriorated soap may block the liquid outlet and affect the normal use.
3. Pay attention when using the soap dispenser to fill the liquid. Make sure that the soap dispenser does not leak and then put it back. If there is any leakage, connect the interface tightly; if it still leaks, it may be damaged and needs to be repaired or repaired. replace.
4. Pay attention to the use of the automatic soap dispenser, do not scratch the sensor head when cleaning; avoid using various chemical thinners to avoid the color of the body.
5. When the soap dispenser is used for the first time, there may be some water in the inner bottle or pump head. This is a normal phenomenon. It may be left when the product was tested before leaving the factory. Don't worry, just clean it and use it.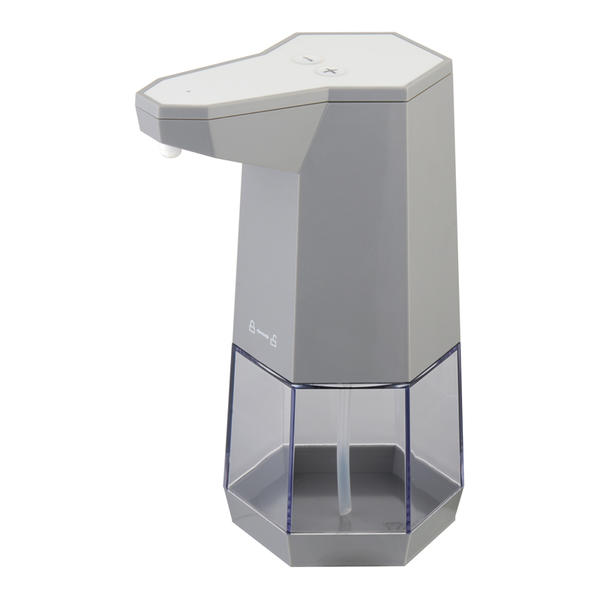 Hospital Antibacterial Automatic Hand Sanitizer Soap Dispenser
| | |
| --- | --- |
| Warranty | 1 YEAR |
| After-sale Service | Online Technical Support, Return and Replacement |
| Project Solution Capability | total solution for projects |
| Place of Origin | Zhejiang, China |
| Model Number | YM-205 |
| Feature | Foam Soap Dispenser/Soap Dispenser/Spray Soap Dispenser |
| Liquid Soap Dispenser Type | Automatic Soap Dispenser |
| Product name | 360ML Electric Household Automatic Touchless Soap Dispenser |
| Color |  White,Red, yellow, gray, black |
| Installation | Desktop/wall mounted |
| Capacity | 360ml |