The
soap dispenser
is easy to use, and it is installed in many households. There are many types of soap dispensers. In addition to being used on the sink, there is also a soap dispenser for hand sanitizer. Sink soap dispenser. The sink soap dispenser is installed at the kitchen sink, and you can press out the detergent, which is convenient for washing dishes. If the detergent needs to be added after running out, there are two methods: First, remove the head of the soap dispenser, and remove the detergent from the soap dispenser. Pour it above the soap dispenser hole; the second is to add detergent directly to the plastic bottle below the sink soap dispenser. Let's learn how to add detergent to soap dispenser.
1. Can the soap dispenser be filled with detergent?
Many friends have used soap dispensers, which are bottled in the toilets in shopping malls. They can be pressed to discharge liquid or sensed to discharge liquid. However, in general, soap dispensers are filled with hand sanitizer, so the soap dispenser can be added for washing. Cleanser?
In fact, the use of soap dispensers is very wide, in addition to hand sanitizer, detergent, shower gel, shampoo, etc. can be put in, just be careful to avoid mixing. In addition, if the soap dispenser is equipped with detergent, pay attention to the choice of water-soluble detergent, and avoid using corrosive detergent.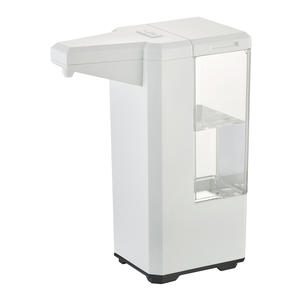 School Wall-Mounted Alcohol Mist Spray Soap Dispenser
| | |
| --- | --- |
| Warranty | 1 YEAR |
| After-sale Service | Online Technical Support, Return and Replacement |
| Project Solution Capability | total solution for projects |
| Place of Origin | Zhejiang, China |
| Model Number | YM-202 |
| Feature | Soap Dispenser/Spray Soap Dispenser |
| Liquid Soap Dispenser Type | Automatic Soap Dispenser |
| Product name | 360ML Electric Household Automatic Touchless Soap Dispenser |
| Color | White,Red, yellow, gray, black |