In home bathroom products, there are also some very practical accessories, such as
soap dispenser
is a very practical configuration.
Speaking of soap dispensers, I believe many friends know that it is a convenient device for storing hand sanitizer and detergent. This soap dispenser is not only used in the kitchen, but also in the bathroom . However, many friends are not very accustomed to using soap dispensers, because they feel that it is very inconvenient and not practical. So what about this product? How can we use it correctly?
1. What are the advantages of soap dispensers?
When many consumers see this product, one of the biggest questions is is the soap dispenser useful? In fact, the design of this product is very practical. For the kitchen sink, dishwashing liquid is very necessary, but when we wash our hands every day, our hands may be covered with oil, and then we squeeze and clean. The essence is very inconsiderate, and this product comes out with the back of the hand, which is convenient and practical.
2. What are the uses of the soap dispenser?
Do soap dispensers work? In fact, for this issue, it is also a problem that many consumers are more concerned about. In fact, for this product, there is not only one type of it, so there are many fields of application. In addition to being used in the kitchen to hold detergent, it can also be used in the wash basin for hand sanitizer. , can also be used in the shower, you can place body wash, place shampoo, etc., it is very convenient to use with a single touch.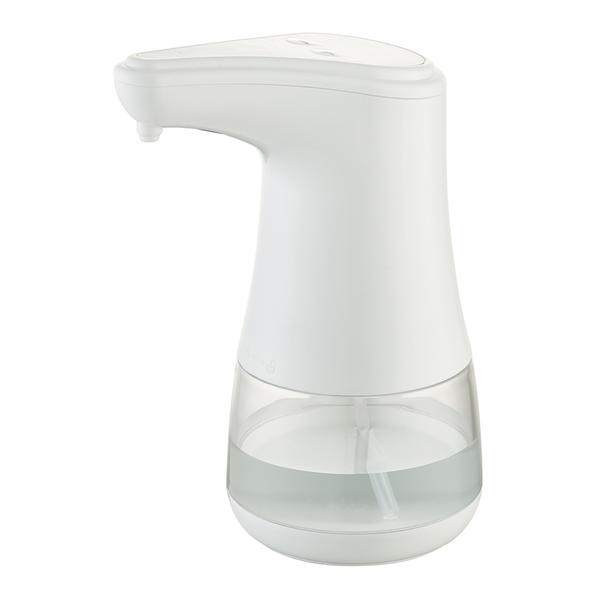 360 ML Sensor Non Touch Hand Sanitizer Soap Dispenser
| | |
| --- | --- |
| Quick Details |   |
| Warranty | 1 YEAR |
| After-sale Service | Online Technical Support, Return and Replacement |
| Project Solution Capability | total solution for projects |
| Place of Origin | Zhejiang, China |
| Model Number | YM-206 |
| Feature | Foam Soap Dispenser/Soap Dispenser/Spray Soap Dispenser |
| Liquid Soap Dispenser Type | Automatic Soap Dispenser |
| Product name | 360ML Electric Household Automatic Touchless Soap Dispenser |
| Color | White,Red, yellow, gray, black |
| Installation | Desktop/wall mounted |