What are the quality inspection reports required by the
induction soap dispenser
e-commerce? Today, Ningbo Yiming Intelligent Technology Co., Ltd. will learn about it with you.
Soap dispenser, also known as soap dispenser and soap dispenser, is characterized by automatic and quantitative hand sanitizer. This product is widely used in public toilets. It is very convenient and hygienic to use soap to clean hands and other hygiene without touching it. Now there are many new soap dispensers on the market, generally battery-operated, soap dispensers with induction functions, soap dispensers with temperature measurement functions, etc...
Induction soap dispenser/electric soap dispenser Tmall inspection standard: GB4706
1. What is a quality inspection report
The quality inspection report is to carry out quality and safety inspection of the product according to customer requirements and/or standardization requirements, and customers are required to provide national standards or inspection requirements. If the customer does not specify the standards and requirements, then the test is determined according to the purpose of the customer's report.
2. Process of quality inspection report of induction soap dispenser/electric soap dispenser
The customer fills in the quality inspection report application form → express the test products to the laboratory → the laboratory reviews the test products and the application form → notifies the customer that the review is correct → after the customer confirms the case opening → the laboratory arranges the test → after the quality inspection report comes out → the laboratory arranges Express reports to customers
Induction soap dispenser quality inspection report function:
1. It can be used for e-commerce platforms such as Tmall, JD.com, Suning, etc., and offline shopping malls.
2. Used for product bidding
3. For users and procuratorial departments inquiries, project acceptance use.
Materials required for the quality inspection report of the induction soap dispenser:
1. Entrusted test application form
2. Product manual
3. Sample 2PCS
How long is the inspection period for the quality inspection report of the electric soap dispenser:
Detection cycle 5-7 working days
The above is an introduction to some knowledge about soap dispensers.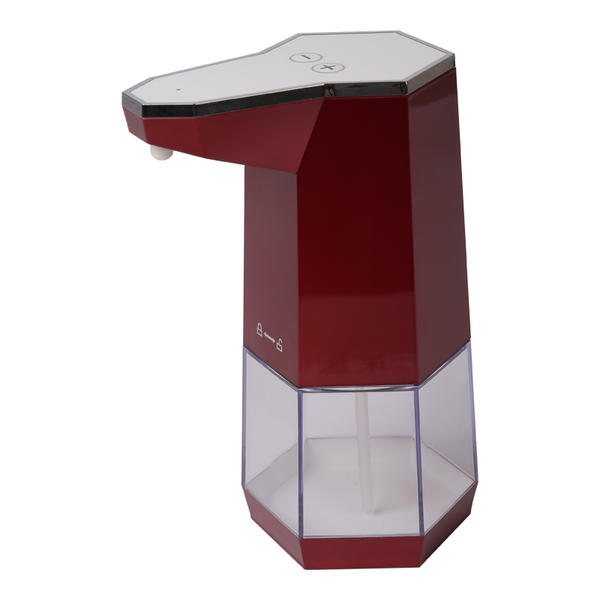 520ML Electric Household Automatic Touchless Foaming Soap Dispenser
| | |
| --- | --- |
| Warranty | 1 YEAR |
| After-sale Service | Online Technical Support, Return and Replacement |
| Project Solution Capability | total solution for projects |
| Place of Origin | Zhejiang, China |
| Model Number | YM-211 |
| Feature | Soap DispenserLiquid Soap Dispenser Type:Automatic Soap Dispenser |
| Product name | 520ML Electric Household Automatic Touchless Soap Dispenser |
| Color | White,Red, yellow, gray, black |
| Installation | Desktop/wall mounted |
| Capacity | 520ml |
| Size | 120x95x205mm |
| Certificate | CE, ROHS, FCC |
| Waterproof | IPX4 |