The
automatic soap dispenser
adopts precision integrated circuit technology, an open rehydration interface, and an intelligent infrared sensor device to avoid contact with hands and prevent cross infection. It uses 4×1.5V dry batteries and is suitable for various soaps and detergents. It can automatically receive the signal to turn on the switch of the soap dispenser when the person reaches out his hand, so as to spray soap or foam.
advantage
1. Adopt advanced human infrared induction technology to automatically sense soap to avoid secondary cross infection;
2. Suitable for a variety of viscous liquids, such as: hand sanitizer, detergent, disinfectant, sunscreen, etc.;
3. The appearance design is exquisite and compact, which not only saves space, but also can be regarded as exquisite household items;
4. Using 4 AA alkaline batteries, it can be used for about 1 year, which is energy-saving and environmentally friendly.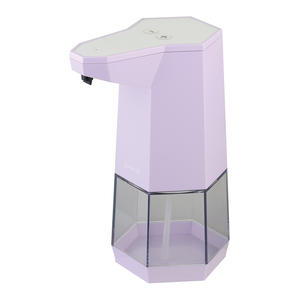 360ml Automatic Liquid Soap Dispenser For Hospital
Warranty:1 YEAR
After-sale Service:Online Technical Support, Return and Replacement
Project Solution Capability:total solution for projects
Place of Origin:Zhejiang, China
Model Number:YM-205
Feature
:Foam Soap Dispenser/Soap Dispenser/Spray Soap Dispenser
Liquid Soap Dispenser Type:Automatic Soap Dispenser
Product name:360ML Electric Household Automatic Touchless Soap Dispenser
Color:White,Red, yellow, gray, black
Installation:Desktop/wall mounted