Advantages of
Induction Soap Dispensers
:
Using advanced human infrared induction technology, automatic induction of soap to avoid secondary cross infection
Suitable for a variety of viscous liquids, such as: hand sanitizer, detergent, disinfectant, sunscreen, etc.
The design is exquisite and compact, which not only saves space, but also can be regarded as a beautiful household item.
Using 4 AA alkaline batteries, it can be used for about 1 year, which is energy-saving and environmentally friendly.
Precautions for induction soap dispensers:
1. When the liquid level is low, replenish the hand sanitizer immediately, otherwise the hand sanitizer will not flow out normally.
2. Do not apply strong impact to the machine, otherwise it will cause serious damage.
3. If the machine will not be used for a long time, please turn off the power switch and remove the battery.
4. Please do not tilt the fuselage to avoid leakage of hand sanitizer.
5. This product is suitable for use in the bathroom and kitchen.
6. Do not wash the fuselage with water, otherwise it will cause damage to the product.
7. Do not use this product in an environment exposed to sunlight, otherwise it may affect the function of the product.
8. Ambient temperature for normal use of the machine: 3℃~50℃.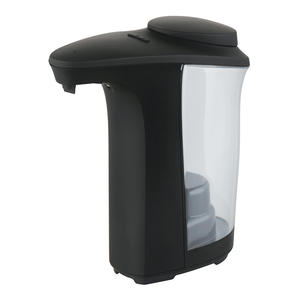 500ml Wall Mounted Touchless Liquid Soap Dispenser Pump
Warranty:1 YEAR
After-sale Service:Online Technical Support, Return and Replacement
Project Solution Capability:total solution for projects
Place of Origin
:Zhejiang, China
Model Number:YM-201
Feature
:Soap Dispenser/Spray Soap Dispenser
Liquid Soap Dispenser Type:Automatic Soap Dispenser
Product name:360ML Electric Household Automatic Touchless Soap Dispenser
Color:White,Red, yellow, gray, black
Installation:Desktop/wall mounted
Capacity:500ml
Size:162x85x188mm
Certificat:CE, ROHS, FCC
Waterproof:IPX4
Main Material:Plastic, ABS