When we use the
soap dispenser
, we may often encounter the situation that the soap dispenser does not come out. So, do you know why the soap dispenser doesn't come out?
1. Use up cleaning liquid
This is a long-term situation when the cleaning liquid is used up. In many cases, the bottom liquid cannot be absorbed due to the length of the liquid pipe.
Treatment method: After adding an appropriate amount of clean water to the liquid container and mixing, after dredging the liquid, refill the liquid after the mixed liquid is everywhere, and refilling the liquid is for the purpose of refilling the liquid. The residual material of the mixed liquid is too solid and will block the liquid outlet;
2. The detergent is thinner
Most of the liquid is not discharged due to the thin detergent, which is mostly due to too much water and the liquid is too diluted. At that time, the air compression is too dispersed, and the consistency of the liquid is not good.
Treatment method: control the proportion of water supply for debugging, and stir while adding water until the ideal state;
3. Inferior soap dispenser
 Inferior soap dispensers are often products with poor quality and questionable quality.
Treatment method: find a business to replace or re-find a soap dispenser with guaranteed quality to buy, here we recommend Fengjie Sanitary Ware.
4. Too much air inside
 As mentioned above, the pressure problem is actually linked to the air. Because there is too much internal air, the pressure tube cannot absorb liquid, resulting in no liquid.
Treatment method: Take out the pressure tube to clean and wash the excess detergent outside, and wash the air in the pressure tube with water. After the pressure pipe is installed, it can continue to be used;
5. The spring is aging and damaged
 The aging and damage of the spring directly affects the liquid discharge. The spring device is the foundation of the soap dispenser to control the pressure and the liquid. Usually, the probability of the aging and damage of the spring causing no liquid is greater than the previous items.
Treatment method: replace the spring with a new one.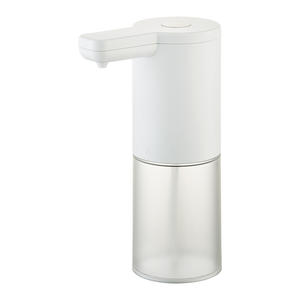 Hot Sale Plastic Alcohol Disinfectant Automatic Soap Dispenser
Warranty:1 YEAR
After-sale Service:Online Technical Support, Return and Replacement
Project Solution Capability:total solution for projects
Place of Origin
:Zhejiang, China
Model Number:YM-210
Feature
:Foam Soap Dispenser/Soap Dispenser/Spray Soap Dispenser
Liquid Soap Dispenser Type:Automatic Soap Dispenser
Product name:360ML Electric Household Automatic Touchless Soap Dispenser
Color:White,Red, yellow, gray, black
Installation:Desktop/wall mounted
Capacity:360ml